Seat Belts for 2011 Ram Dakota
No.
Part # / Description
/ Price
Price
Discontinued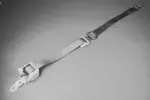 Discontinued
Backordered
Pan Head Screw
Rear Outboard Seat Belt Anchor. .437-20x1.45. Retractor To Body. Turning Loop to A-Pillar. Front Seat Belt Retractor. Retractor Anchor. After 4/15/03. Seat Belt Retractor Attaching.
Hex Head Screw And Washer
M8x25x20. Instrument Panel to Cowl Side Bracket. M8x1.25x25. Hinge to Body. HCU to Stud Plate. Awal. Rwal. Child Seat Teather. Child Seat Tether. Child Tether Anchor Attaching.
Pan Head Screw
M12x1.75x41.5. Belt To Floor. Belt To Seat Frame. Rear Buckle To Floor. Center Retractor To Floor.
Backordered
Backordered